Royal Visit Commemorating Windrush 75th Anniversary And Kickstarted Black History Wales 365 Celebrations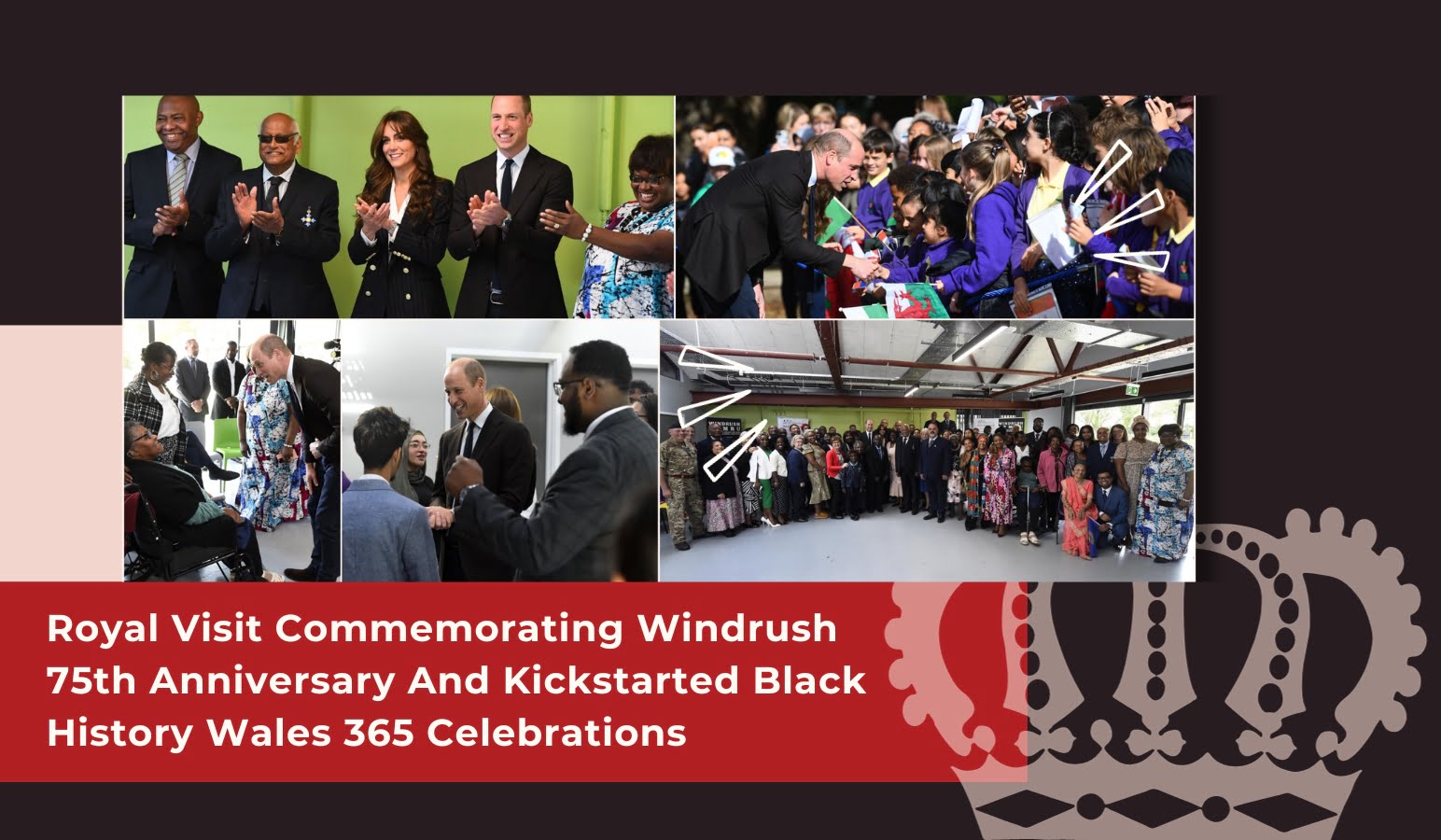 On 3 October 2023, the Prince and Princess of Wales attended a heartwarming event at the Grange Pavilion in Cardiff. Their Royal Highnesses met with members of the Windrush Generation, marking the 75th Anniversary of the arrival of the HMT Empire Windrush.
This visit also started the official commencement of Black History 354, signifying the importance of acknowledging and celebrating the contributions of Black communities to British society throughout the year.
The royal couple engaged with diverse community groups, each of whom played a vital role in highlighting the stories and achievements of the Windrush Generation and the broader local communities.
The Prince and Princess of Wales had the pleasure of meeting with representatives from various community groups, including Windrush Cymru Elders, Black History Cymru 365, Ethnic Minority Youth Forum, the Somali Community, and Cardiff Bay Warriors.
This memorable visit was significant for both the Windrush Cymru Elders and the broader community as it highlighted the importance of recognising the contributions and history of the Windrush Generation and their ongoing journey. It also inspired this year's celebrations of Black History Wales 365, where the stories and achievements of the black community are promoted, and we celebrate diversity and inclusivity across Wales.
The Royal visit has left a lasting impression on our diverse communities. It reinforces the message of unity, understanding and appreciation of our rich culture that forms Wales and the wider United Kingdom.
Incredible to see the contributions of the Windrush generation transcend to the present day and beyond. Young people are given a platform to be a voice of change and build friendships and community.

Thank you to @rcccymru, @bhwales and @cardiff_bay_warriors for creating positive… pic.twitter.com/Mig7oM6Bne

— The Prince and Princess of Wales (@KensingtonRoyal) October 3, 2023
Anhygoel i weld cyfraniadau'r genhedlaeth Windrush yn rhagori hyd heddiw a thu hwnt. Rhoddir llwyfan i bobl ifanc fod yn llais ar gyfer newid a meithrin cyfeillgarwch a chymuned.

Diolch i @rcccymru, @bhwales ac @cardiff_bay_warriors am greu newid cadarnhaol yng Nghymru. pic.twitter.com/w5Bec13TXE

— The Prince and Princess of Wales (@KensingtonRoyal) October 3, 2023