The Honorary Consulate of India, Rag Aggarwal OBE, together with The Royal Welsh College of Music and Drama and  Race Council Cymru will hold an event on Wednesday 15 June, to commemorate the selfless sacrifices of those who contributed during the Covid-19 pandemic.
This inclusive event aims to honour every single person who contributed during this difficult period in all of our lives, front line workers, our communities and individual volunteers. However big or small the contribution the event aims to take a moment to reflect, pay tribute and give thanks whilst we hope for better times. 
This evening of COVID reflections starts at 5.30pm with a service at St Johns Church, The Hayes, Cardiff before culminating with a concert at The Royal Welsh College of Music and Drama at 7.15pm. The Royal Welsh College's Isaac Zuckermann 4-tet band, Ify Iwobi and her band, Reksha Girish Nataya Academy dancers and the Army Regiment's Corps of Drums will all perform powerful pieces in what promises to be an emotional and exciting evening. 
Uzo Iwobi, Chief Executive for the Race Council Cymru and spokesperson for the event said: "It's so important that we take the time to sit still and not only reflect back on the difficult time that we have all had to endure but also take a moment to recognise that we wouldn't have got through this time without the selfless acts of kindness and compassion from those around us, many of who lost their lives during the pandemic. This is our opportunity to give our heartfelt thanks to those people. Who knows where we would be now without these brave souls. It is because of them that we can look to a brighter future." 
If you would like to attend, please follow the links – 
English – https://www.rwcmd.ac.uk/whats-on/tickets/book?EventId=169879 
Welsh – https://www.rwcmd.ac.uk/cy/whats-on/tickets/book?EventId=169879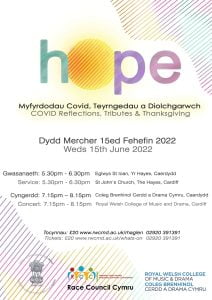 For further information, please contact
Lisa Gardener, Marketing and Communications Manager, Black History Wales & Race Council Cymru – [email protected], 07786377064 
Uzo Iwobi, Chief Executive of the Race Council Cymru and Spokesperson for the event, [email protected], 0783860979