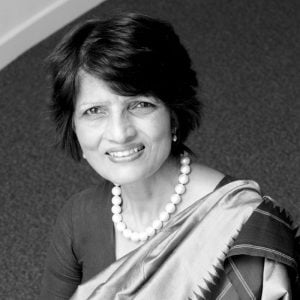 Professor Meena Upadhyaya OBE
Board Member
Meena Upadhyaya is an Indian-born Welsh medical geneticist and an honorary professor at Cardiff University. Her research has focused on the genes that cause various genetic disorders, particularly neurofibromatosis type I and facioscapulohumeral muscular dystrophy.
Upadhyaya was born in India. She entered an arranged marriage when she was 18 years old and migrated with her husband, an engineer, to the United Kingdom a year later. Having studied a bachelor's degree in biology at the University of Delhi, she completed a Master of Science at the University of Edinburgh followed by a doctorate at Cardiff University. Her husband died when she was 35 and their daughter seven, shortly before Upadhyaya finished her PhD.
Upadhyaya is also an advocate for women of ethnic minorities; she founded the Welsh Asian Women Achievement Awards and the organisation Ethnic Minority Women in Welsh Healthcare. She received an OBE in 2016 for "services to medical genetics and the Welsh Asian community
Upadhyaya completed a fellowship with the Royal College of Pathologists in 2000, becoming one of the first people to do so in the field of medical genetics. Her research career focused on genetic disorders, especially neurofibromatosis type I and facioscapulohumeral muscular dystrophy. She was involved in identifying the genetic mutations responsible for these two diseases and developed tests to aid in the diagnosis of more than 20 genetic diseases. She has also researched the reasons that some people with neurofibromatosis type I develop malignant tumours and worked on the development of a rapid diagnostic test for genetic disorders. Over her career, she authored more than 200 scientific articles and three textbooks and received awards from the Muscular Dystrophy Association (2009), the Inspire Wales Awards (2010), the European Neurofibromatosis Group (2013), and the Welsh Assembly (2011). She was a professor in Cardiff University's Institute of Cancer Genetics and directed the All Wales Medical Genetics Service Research and Development Laboratory until her retirement in 2014, thereafter serving as an honorary professor at Cardiff.